Bruce Arians Says He's Avoiding Zoom Meetings With Players
June 5th, 2020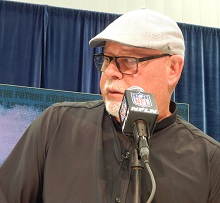 Is the Tampa Bay head coach taking old school to the extreme?
It seems that way. Bucco Bruce Arians is no fan of video conference meetings with groups of players and, in fact, he's avoiding them.
Arians shared his approach while being questioned by Harry Mayes on SiriusXM's Dan Patrick Radio this week.
"How many Zoom sessions [with players] have you done so far?" Mayes asked Arians.
"I've been letting the assistant coaches do most of it, because I get on there and there's too many people," Arians replied. "You know, I'm saving my message when we all finally get together. And the guys get tired of hearing me anyway. I'm waiting for that moment and [to] set the tempo for what we want to get done this year."
Last week Todd Bowles, while answering a question from Joe, said he can't tell if any player stands out in any way during Zoom meetings of his defense. Yesterday, Arians told Joe there's nothing creative he can do online with players to help make up for lost reps during spring practices.
Joe gets it, but Joe also suspects that after the The Sickness-driven lockout ends, word will emerge that a few NFL coaching staffs were innovative and creative teaching and evaluating players during this online-only time period.
It appears the Bucs won't be one of them.