"You'll Really Start To See The Shift"
June 2nd, 2020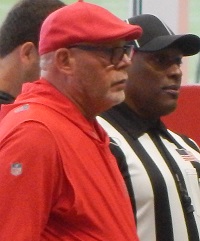 When will too-long suffering Bucs fans know with certainty that Tampa Bay is finally a real-deal team again?
We were teased by the 9-3 start in 2008 and exhilarated by a young 10-6 Bucs in 2010, prior the 2011 implosion. The 2012 start at 6-4 was great before the ugly five-game losing streak. The 2016 season brought Bucs fans back from the dead only to realize Bucs management thought adding malcontents and ignoring the running game would push the team over the top. Last year the Bucs salvaged a train wreck start but limped off with two home losses.
That's 12 years of no postseason play. Team Glazer should really issue fans special discounts for time served. How bout 12 percent off every stadium beer this year in recognition of the playoff drought?
Chris Godwin was chatting on SiriusXM NFL Radio last week and explained how he'll know real change has come to his brethren at One Buc Palace.
"Limiting the mental errors and the plays that kill ourselves, and I think once we stop doing that, I think you'll really start to see the shift and what will be, you know, the new Tampa Bay Buccaneers," Godwin said.
Joe is yearning for this new day in Tampa Bay that Godwin speaks of.
And those mental errors weren't all on America's Quarterback, Saints backup Jameis Winston, The Bucs had 133 penalties last year. That's a tremendous number. Most teams have a goal of 90 or less; 105 is reasonable. Demar Dotson and Shaq Barrett led the Bucs with 10 each. Carlton Davis had nine.
Playing aggressive, clean football will go a very long way toward turning the Bucs into a contender, in addition to a quarterback who protects the ball at all costs.