Greater Preseason Emphasis For Tom Brady
June 3rd, 2020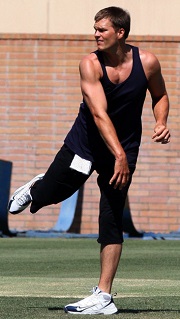 The Buccaneers' August just got more interesting.
The NFL ruled yesterday that teams are prohibited from having preseason "joint practices," the term for when clubs practice against other teams. The Bucs and Jaguars were scheduled to engage at One Buc Palace for two sessions prior to their preseason showdown at the Den of Depression on Aug. 22.
Joint practices were a staple of Bill Belicheat and the Patriots, and Bucco Bruce Arians has said he loves them, noting the scripted work is more efficient and nobody's allowed to hit the quarterback.
Well, now that option is gone, wiped out by fears of The Sickness.
Joe is certain this means we'll see more of Tom Brady in preseason. Brady is not a preseason ghost like other veteran quarterbacks, but Brady played very little last year and he isn't often seen in Week 1 of the August exhibitions.
That's about to change after no spring practices with new teammates, no joint sessions and probably some other wacky restrictions we haven't heard of yet.