Tiki Barber Analyzes The War On Tom Brady
June 30th, 2020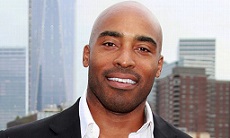 Remember when Tom Brady told The Howard Stern Show that he doesn't trust the media like he used to?
Brady was being wise, and voilà, a matter of weeks later we sit amidst The War on Tom Brady.
Joe's been documenting the national and local assault for days. How dare Brady flout the NFL players union request for players to cease private — and legal — workouts in small groups?
Why Brady is an irresponsible member of the human race for hosting workouts with a dozen adults outdoors at a private school — a matter of minutes before legions of kids and counselors arrive at the premises for mask-free summer camp. What a monster!
After Brady posted a photo of himself on social media with the famous Franklin Delano Roosevelt quote, "Only thing we have to fear is fear itself," well, the media bombs escalated to heavy artillery.
Tiki Barber did some self-reflection this week on live radio after explaining how he first reacted to Brady's comments.
Barber was mad, he explained on CBS Sports Radio, but then decided to invest time to learn what Roosevelt's quote and speech were about roughly 90 years ago.
Barber described his initial reaction to Brady's social media post.
"When I read that, it kind of infuriates me. As much as I like Tom Brady, it almost infuriates me," Barber said. "Because who is he, despite his success as a football player and as a leader, to thumb his nose at a pandemic that is taking over this country?

"Just because you're invincible on a football field doesn't mean that you're invincible off of it for an invisible virus — that you might not even know that you have and could be passing on to anyone you come in contact with. I mean, c'mon Tom Brady. I would think that he'd be better than this."
Again, that was Barber's initial take — after Barber was a miffed because weeks ago Brady's company, TB12, marketed a new supplement to boost immunity.
"It was almost like look at me for advice on how to, you know, beat the coronavirus. It was insensitive," Barber said he thought. "I don't care what you're making, Tom Brady, or your team. It's not going to stop a pandemic from happening. Your immune system's not going to automatically turn invincible because you're taking TB12 products."
Barber wanted to "excoriate Brady for being reckless," he said, but instead dove into deeper study of the FDR quote.
What Barber found, he said, was an inspirational speech about the need for hope. He believes Brady was sending a similar message to the world — to not be paralyzed by fear in the midst of major changes due to coronavirus and protests of racial discrimination.
"Despite the fact that my initial reaction was to crush Tom Brady, I'm actually going to commend Tom Brady for trying to use his position as a champion, as a leader, as this great example in the most popular sport in the United States to send a message of hope," Barber said. "At least that's what I hope Tom Brady meant."
Obviously, Joe doesn't know Brady. Barber said he used to hang out with Brady years ago. But Joe does know that blasting Brady for his social media post and for practicing with teammates is lunacy for so many reasons. The hypocrisy hits a new level of stunning.
The NFL and the NFLPA do a lot for youth football across the country. Joe wonders if the media will hammer these entities into halting their financial support immediately because youth leagues won't be able to follow the same safety protocols as the NFL? You know, blasting the NFL for being potential accessories to murder.
Joe just hopes Brady doesn't get caught posing for a photo with a fellow jet-skier on Hillsborough Bay this weekend.