"You Practice Like Tom Brady Is Working"
June 30th, 2020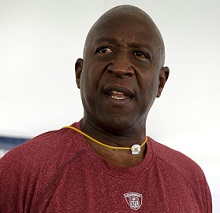 A truly awesome analyst you may never have heard of, former Redskins Super Bowl tight end Rick "Doc" Walker, went on quite a rant today.
The call-it-straight media personality in the D.C. region landed on Sirius XM NFL Radio and put his foot down when asked about the Redskins' prospects under new head coach Ron Rivera.
Walker said he'll know what the team is once he sees it practice in pads, and Joe stood up and applauded when Walker firmly said he believes nothing that comes out of Redskins headquarters because he's heard all kinds of BS through the years.
His eyes don't lie, Walker said, and that's how he evaluates. (It got Joe thinking about how so many in Tampa media swallow what comes out of One Buc Palace like it's gospel).
Walker talked about the soft nature of football practices in recent times and then rolled into his admiration for Tom Brady.
"I'm not a shell guy, these panties and garter belts they wear in practice. To me, you practice like Tom Brady is working," Walker said. "Every time you see Tom Brady in the offseason what does he have on? Pads. Pads. The game is a contact sport. You play it in pads."
Hard practices and scrimmages against other teams are vital, Walker explained, and he added, "Everybody who tells you they didn't hate practice is lying, or they didn't win."
This really got Joe's head in Bucs-culture-changing mode.
How much can Brady accomplish in that area? The answer lies in how bad things really are — or are not — at One Buc Palace.
Joe also wonders what Brady's new teammates think when they see him practicing in pads at the Tampa private school where some offensive players are gathering. Has anyone else ordered pads and a helmet on Amazon?
Walker, as Joe wrote, is a gem. He talked about the Redskins running a "fake 3-4" defense that was lacking "a rhinoceros at nose tackle." The way he described how the Washington defense must transform, it felt like he was begging for Todd Bowles' system with Vita Vea.