"Sociopathic Entitlement"
June 29th, 2020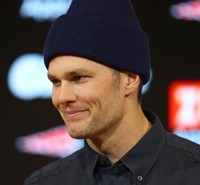 The War on Tom Brady continues.
Yesterday the battleground moved to Philadelphia, where newspaper columnist Marcus Hayes wrote about Brady having a "sociopathic entitlement" for leading workouts with 10 or so teammates outdoors at a Tampa private school — where Brady clears out before hundreds of kids and parents pour in for summer camp.
Tampa Bay Times columnist John Romano isn't too happy with Brady, either.
Meanwhile, Major League Baseball, Major League Soccer and the NBA are all gearing up to start playing real games in July. Most of the Rays roster reports for duty on Wednesday.
But it's Brady who is a menace to society. Why? Because he likes to love himself on Instagram and is daring to exercise with teammates outdoors while people stuff their mask-free faces in restaurants down the street.
It's getting wild out there. Joe's glad Brady has Tampa police patrolling the waters outside his home.