Is The Hype Lasting Too Long?
June 7th, 2020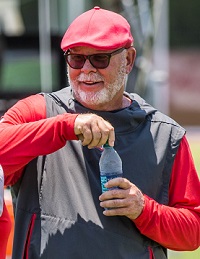 Bucco Bruce Arians talked last week on Alabama radio about what could be one of the great challenges on his plate.
Antonio Langham asked Arians how he will keep the extraordinary hype surrounding the 2020 Bucs in check for his roster and for fans.
"I think you embrace it, you know, don't back off of it, then put it to bed," Arians said on 100.9 FM. "You know we talk about the process all the time, the daily grind. You set goals and then you start going to work, and if we're not getting our work done, those things aren't going to happen."
Normally, Arians would have been able to quash the wild hype in late April, but The Sickness has kept the team apart.
Arians said he's saving his core message to the team until they're back together in person. And obviously, players aren't going through the daily grind that quashes the hype and gets a team's mind right, per Arians. So in many ways, the unprecedented national back-slapping of the Bucs has been allowed to linger much longer than Arians anticipated.
Joe can't say if that's good or bad for players. But it's certainly different.
When it comes to getting the team's mind right, Joe suspects Arians will get one hell of an assist from Tom Brady on Day 1 of training camp. There really isn't a minute to spare with the Bucs facing a veteran and elite Saints team on the road 54 days after they arrive at One Buc Palace.