DeSean Jackson Talks Jameis; Byron Leftwich Passes
June 16th, 2020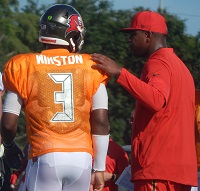 Tampa Bay offensive coordinator Byron Leftwich didn't want to talk today about America's backup, Jameis Winston.
Joe gave Leftwich a clear opportunity to say a few glowing parting words about his 2019 quarterback project, but Leftwich spiked the ball and called a new play.
JoeBucsFan.com: Coach, after spending a whole year putting everything you had into developing a young QB like Jameis Winston, how did you feel when you learned he was leaving the team?

Byron Leftwich: The key is that my job is to put everything I have into all these players, to give them everything I have to put them in the best position to be successful. And that's me giving everything. Not just me, that's the coaching staff. We're here to serve these guys, to put these guys in the best position possible so they can have as much success as possible. So that's our job regardless of who it is. As coaches, our job is here to teach.
One man who did want to talk about Jameis this week is former Buccaneers malcontent receiver DeSean Jackson, who helped drag the Bucs to consecutive 5-11 seasons during his well-paid time in Tampa.
Jackson hit the national airwaves on FS1 and said thinks backing up Drew Brees is a good spot for Jameis, adding that Jameis is awesome at talking the talk but not walking the walk.
"Jameis, man, that dude has a lot of upside, man, And when I say upside, playing with him in Tampa, I feel like he has all the intangibles to be a big-time quarterback in the league. I think just a lot of times last year he was careless with the ball and didn't really manage the ball as much as he needed to be being a top-tier quarterback in the league," Jackson said.

"… I think a lot of times if you're talking the talk and not walking the walk, you know, a lot of guys are not going to follow behind. I'm not saying that's necessarily him, but you know more on the talk the talk, you just gotta back it up on the field. … I definitely think he's a starting quarterback in the NFL."
Yes, the Jameis era is over. And in comes the master at walking-the-walk, Tom Brady. And he'll talk-the-talk around his teammates, too.
Joe is no fan of all this savior leadership chatter, but it is interesting to hear Jackson strongly imply that some Bucs weren't interested in following Jameis into battle.
If that's accurate, then the Bucs should be better this season than many expect.