Cutting The Call Sheets
June 16th, 2020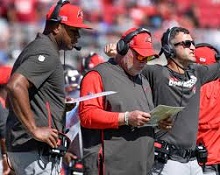 Two indicators emerged today that point toward Tom Brady having things done his way early this season.
The first is not what you might think.
Former Texans and Redskins GM Charley Casserly published an interesting article on NFL-owned NFL.com about what a preseason sliced in half would mean for NFL teams. (If that's not the biggest hint yet that preseason actually is getting cut, Joe isn't sure what else would be.)
Casserly sought insight from former CFL coaches working in the NFL, among others, because they only play two preseason games in the Canadian league. Here is one of several nuggets:
A shortened preseason would favor more experienced teams. With significant game action in preseason taken away, call sheets might be limited early on in an effort to avoid overwhelming skill players and quarterbacks new to schemes in which they have little exposure. Organizations with new players at skill positions — particularly at quarterback — would likely emphasize the run game and screens early in the regular season, letting the passing game evolve over time, while teams with strong continuity from 2019 would be better positioned to deploy their full game plans sooner.
Hmmm, cutting the call sheets and relying more on the run game and screens. That sounds like Tom Brady's former playbook.
And throw in what Byron Leftwich told Joe today: "We just gotta figure out what [Brady] does well and make sure we run a lot more of those plays on Sunday than not."
Yes, the Bucs will be doing everything they can to accommodate Brady, as they should. However, Joe's starting to wonder how much that might neuter some of the strengths in the offense. It feels like a lifetime ago, but this team did score the third-most points in the NFL last year.