Brady Back At Berkeley Today; Wants To Increase Efforts With Teammates (Video)
June 11th, 2020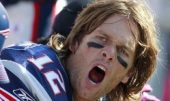 Tom Brady was back on the artificial turf with his teammates this morning at Berkeley Preparatory School in the Town & Country section of Tampa.
As Joe talked about on the Ira Kaufman Podcast multiple times in recent weeks, if Brady was to be spotted again practicing with teammates, Joe's money was on FOX-13 reporter Kevin O'Donnell flushing him out.
Today, O'Donnell secured drone video via a flyover of Brady and friends about 8 a.m at the private school. Video is below.
Per O'Donnell's written report, Rob Gronkowski was in the small group and similar sessions have been going on twice-weekly, though Brady wants to increase the frequency.