Tom Brady Docuseries Coming
May 21st, 2020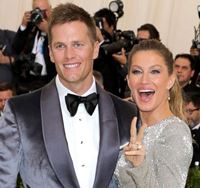 Remember when Tom Brady launched a video production company?
Well, it looks it found a job — working on its favorite subject.
Listeners to the Ira Kaufman Podcast know The Sage of Tampa Bay Sports also collects checks from The Hollywood Reporter, and per that publication, ESPN is buying a docuseries on Brady's career co-produced by Brady's new production company.
Man in the Arena supposed to focus on the key moments of his career and air in 2021.
"This compelling and powerful show will entertain, inspire and have you on the edge of your seat. We can't wait to share it with the world," Brady said.
Joe has no doubt this means production crews will be around the Buccaneers in some way this year. Brady's production team is smart enough to know that not filming the Bucs would be a disaster if they happened to have a very strong or Super Bowl season in 2020.
Hopefully, nobody wearing pewter and red is filmed humping a palm tree.