The Schedule Gods Were Kind
May 7th, 2020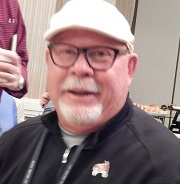 When your favorite team hasn't started better than 3-5 in seven consecutive first halves of seasons, you celebrate when the early part of the schedule is favorable.
That's exactly what Joe is doing tonight. The Big Storm beer is flowing, and Joe has a tray of Hooters boneless wings with a variety of sauces.
Look at those first four games:
at New Orleans
PANTHERS (at home)
at Denver
CHARGERS (at home)
It wasn't going to get much easier for the Bucs in the first quarter of the season, with the rebuilding Panthers, a beatable but talented Denver team and the Chargers with a rookie quarterback (most likely). And the Saints are notorious slow starters, especially on opening day. (See 2018 at the Superdome).
The football gods are smiling upon the Bucs. Thanks, Tommy!
Now the Bucs just have to win early and end that damn seven-season streak.
(See the full 2020 schedule here.)