Primetime Is Bucs Time
May 7th, 2020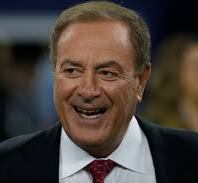 Joe was right!
Joe walked out on a ledge and predicted months ago the Bucs would have at least five primetime games for the NFL to capitalize on a potential Tom Brady signing.
And there you have it, five primetime games were announced tonight, including two Sunday night games, two Monday night games and one Thursday night game.
Still, seeing the Bucs have five games under the lights is stunning.
The Bucs will face teams from the top three television markets, New York, Los Angeles and Chicago, all in primetime. The first time the NFL can flex a Sunday night game is Week 11. The Bucs will have already played both scheduled Sunday night games by the time that flex window opens.
The Bucs might luck out with the Bears in their Thursday night game. October can be a really s(p)itty month in Chicago and the Bucs catch the Monsters of the Midway the second Thursday of the month.
As Lewis Grizzard once wrote, there are two seasons in Chicago, winter and Fourth of July. Their weather turns from hot to winter in October (really no spring or fall there).
The Bucs even have three primetime games in a row! The stretch begins with a trip to Sin City on the final Sunday night of October to face the Vegas Raiders (!), then a Monday night game in New Jersey to play the Giants, and the three-week stretch of primetime games ends hosting Sunday Night Football against the Saints on Nov. 8.
The schedule also includes two Monday night games in November. The only hiccup here is the Saints home game is on a short travel week in November.
If you happen to work evenings, Joe guesses you will be using vacation time or sick days.
This sure looks like a fun schedule.
Bucs Under The Lights
Oct. 8 at Bears (Thursday)
Oct. 25 at Raiders (Sunday)
Nov. 2 at Giants (Monday)
Nov. 8 SAINTS (Sunday)
Nov. 23 RAMS (Monday)