Seething "Tough-Ass?"
May 19th, 2020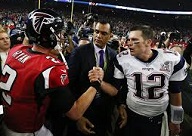 When is the last time the 10th leading passer in NFL history had the third-most career throwing yards in his division?
Never, Joe will say.
But that's the boat Matt Ryan is in with 51,186 yards passing, about 300 yards behind John Elway on the all-time list of prolific throwers. Drew Brees is No. 1 with 77,416 yards and Bucs gunslinger Tom Brady is second at 74,571.
(Yes, Brady's a "gunslinger." He's thrown for more yards per game than Ben Roethlisberger, Dan Marino, Aaron Rodgers and Brett Favre, and Brady ranks No. 8 in history in that category. Brees and Ryan are ahead of him, as is Jameis Winston.)
Joe brings up Ryan today because he was interviewed on SportsCenter, and before the host even asked him a serious Falcons question, Ryan fielded multiple questions about Brady joining the NFC South and about facing Brady and Drew Brees.
That struck Joe because last week Falcons head coach Dan Quinn told The Rich Eisen Show that Ryan is crazy competitive and painted him as a guy ignited by the chance to be viewed as an underdog QB in the division.
"Matt Ryan is a straight wolf in sheep's clothing. Like he is a rare competitor; he's tough as hell. He is 100 percent driven grinder tough-ass," Quinn explained.
On ESPN, Ryan, 35, threw as much love at the Bucs defense as he did at Brady. "Man, it didn't get any easier in our division," Ryan responded. "They're solid. Tampa's defense last year was really tough."
The Falcons play all four of their games against the Bucs and Saints in the final seven weeks of the 2020 season, which is quite a scheduling quirk and sets up the NFC South race to be up in the air until December, especially if Atlanta beats Carolina twice in the first half of the season.
In the meantime, Ryan can stew on Brady and Brees getting all the QB headlines.