Brady Joins His Teammates On The Field
May 19th, 2020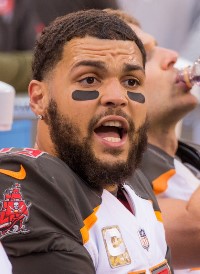 UPDATED 2:15 p.m. – Coach'em up, Tommy!
The Tampa Bay Times reported that Mike Evans, Scotty Miller, Cameron Brate, Dare Ogunbowale, O.J. Howard, Blaine Gabbert, Ryan Griffin and Ryan Jensen joined Tom Brady for a two-hour session at 7 a.m. this morning on a field at Berkeley Prep. The private school is in the Town & Country area of Tampa.
The folks at NESN (New England Sports Network) got photos and put together a report in the video below:
Brady passes gas and the Boston media is all over it, it seems. Joe wonders whether that will change once the sports world turns on again and Boston fans have other things to care about.