Rondé Barber: Shaq > Simeon Rice
May 11th, 2020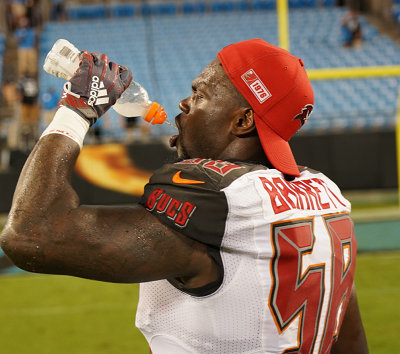 One of the great gems of the modern broadcasting era came from Bucs icon Rondé Barber when he said Chris Conte had "the best movement I have ever seen at safety."
Yeah, he said it.
Barber has dropped other gems since that eye-opening moment in 2015, like when he called Vernon Hargreaves the third-most talented cornerback in Buccaneers history.
This year, on a Tampa Bay 55 podcast, Barber dropped another thought-provoking take. He said Shaq Barrett is a better pass rusher than Simeon Rice was.
"Shaq Barrett, you know, how do you account for a guy coming out of nowhere and leading the league in sacks? You can't .And it wasn't flukish," Barrett said. "First, I was like, 'Who is this guy Shaq?' I didn't know if he was that good in training camp. And then after two weeks of regular season, I was like, 'this guy has more tools in his tool box than any rusher that's ever been in Tampa.' And that's including Simeon [Rice].

"Simeon was a hell of a pass rusher. He was long. He could turn the corner. He had counter moves. Watch Shaq Barrett surgically destroy tackles all last year. There was a reason he had [19 1/2] sacks. It was unbelievable. He would set guys up. He would run counters. He would run a rush knowing that the very next snap he was runnin' something else. It was seriously clinical. Trust me. I found myself saying, 'Who was Shaq Barrett so many times last year when I was watching Bucs film. And I watch all their film just because. He's a heck of a player. He deserves whatever [pay] he gets."
Rice, like Barrett, arrived in Tampa at 27 years old. And Rice promptly reeled off five consecutive seasons with double-digit sacks, including back-to-back years with 15.
Joe is not buying that Barrett is a better pass rusher than Rice, but Joe sure hopes Barber is on the money and Barrett has too many tools to become a mortal pass rusher again like he was in Denver.
Rice, of course, came to the Bucs as an established force and was a former No. 3 overall draft pick.