Inside The 2019 Pass Rush Numbers
May 23rd, 2020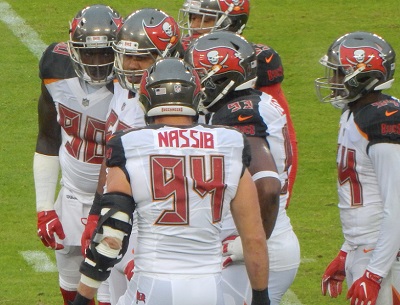 Some really meaty football stuff on the Buccaneers pass rush here. And it identifies one clear deficiency.
The Bucs blitzed a whopping 293 times last season and got just 14 sacks out of it. That's not good. Combine all the ways to measure affecting a quarterback on a blitz, knockdowns, hurries, sacks, pressures, etc., and the Bucs ranked 14th in the NFL from all those blitzes.
The numbers above were barked out on SiriusXM NFL Radio this week during an analysis of the Tampa Bay pass rush by former Jets linebackers coach and personnel chief Pat Kirwan.
The Bucs were the NFL's No. 1 blitzing team on first down last season, Kirwan noted, and they led the league in blitzing on second down.
Kirwan wagged a finger at Devin White and Lavonte David for their lack of production.
"When you call that many pressures and the inside linebackers combine for 4 1/2 sacks and the secondary has 2, now you see why they're not getting there with all those pressure calls," Kirwan said.
Lavonte David blitzed and blitzed and blitzed some more under Mike Smith in 2017, and he came out of that season with zero sacks and has just 4 1/2 sacks the past two seasons.
Reality says David is just not the blitzer he was years ago. White is learning, and Joe hopes there's great improvement in his sack numbers this season, assuming the Bucs keep sending the pressure.
Kirwan is confident the Bucs blitzed so much without great success because it was forcing single coverage on Jason Pierre-Paul and/or Shaq Barrett. Overall, Kirwan doesn't expect the Bucs' pass rush to better this season, and he says they'll be lucky to get the same production, which was pretty strong.
"I don't see a big improvement because you cannot point to the new guy who's going to make it better than it was," Kirwan said.
Joe agrees. It's unreasonable to think Shaq can duplicate his monster season. And the last time JPP had to play a full season he weakened down the stretch. Those blitzes have to start getting home more often!
Still, if the Bucs pass rush is close to what it was last season, then it should be good enough to be a key cog in a playoff team.