"What If I Shot Tom Brady?"
May 23rd, 2020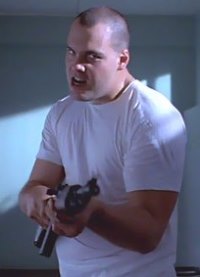 Will the people who have irritable bowel syndrome flare-up whenever Joe refers in the first reference to new Bucs quarterback Tom Brady as "park-violating, home-invading" also reach out to Disney and City of Tampa officials for no good reason?
Tampa mayor Jane Castor and BSPN teamed up with a funny spoof video of Brady's capers since arriving in town.
Of course, one of Castor's goons ran Brady out of a park (where he apparently was tossing a football with an unnamed accomplice). Days later, Brady waltzed into a complete stranger's home unaware the house he invaded was not owned by Bucs offensive coordinator Byron Leftwich's, his intended target.
The video begins with Castor making a mock official statement welcoming Brady to Tampa Bay. She then begins documenting Brady's colorful yet very short history in the area.
Then the video really gets good as Paul Dial, Tampa's director of parks and rec, explained in detail about Brady and his unknown companion getting run off from the park. The video flips back to Castor who described the incident as "trespassing." Then she adds, "Tom continued with home invasion."
A gentleman by the name of David Kramer joins the video. He is the owner of the house Brady strolled into unannounced and without even ringing the doorbell. Kramer describes in detail what happened. ("What are you doing in my friggin' house?")
By the time Kramer, Leftwich's neighbor, recognized Brady was standing in the middle of his house, Brady bolted.
Of course, Kramer has the money quote that just about everybody overlooks.
"I started thinking about all the things that could have gone, like so wrong," Kramer said. "What if I had a gun? What if I shot Tom Brady?"
The video then goes back to Castor, with what looks like a Corgi at her side (channeling Bill Belicheat?), offering to pardon Brady for his misdeeds so long as he doesn't let the Vince Lombardi Trophy leave the city limits of Tampa in February.
Again, Joe is wondering if the same folks who are up in arms with Joe and his moniker will threaten legal action on Disney and Castor like they have with Joe in the comments?
Well?
And shooting Brady before he had one practice with the Bucs? Joe just cannot imagine the blowback from that. It would be talked about and rehashed forever.
After 20 seasons with the Patriots, Tom Brady was familiar with life in the Boston area.

But when TB moved to TB this spring, he quickly learned he wasn't in Boston anymore … pic.twitter.com/PEI9V76E7p

— NFL on ESPN (@ESPNNFL) May 23, 2020