"Rise With Me"
May 23rd, 2020
BY IRA KAUFMAN
One of many attributes that attracted the Bucs to Devin White is his leadership skills.
In addition to his elite speed and impressive instincts, White was chosen by Tampa Bay over intriguing edge rushers in the 2019 draft because of his intangibles.
Judging by his conference call with the media this week, White plans on exerting his authority even more this fall. He knows the best way to do that is to lead by example, especially at the age of 22 with only one year of NFL experience behind him.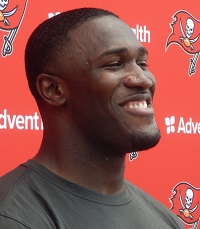 White makes no effort to hide his self-confidence, and that's a plus.
Why should he? He was a star linebacker at LSU and he turned in enough splash plays as a rookie to convince Buc fans they are looking at a future perennial Pro Bowler.
One hallmark of an effective leader is a hunger for more.
"We were the No. 1 rush defense, but that wasn't good enough," White said. "We need more takeaways from the front 7."
The Bucs forced 28 turnovers last year, a respectable total, but Tom Brady is used to playing with stellar defenses. Since Brady became New England's starter in 2001, the Pats featured a Top 10 scoring defense 16 times — including the past eight in a row.
With Brady Mania at full throttle, it's easy to forget what White said about a Tampa Bay defense that yielded only 10 touchdowns in the final six weeks.
"This defense, it didn't play as well as it could play this year and I know next year with coach Todd Bowles we're going to be even better," White said after the season finale. "That's what I can do as a teammate. I can make sure the defense is on point. This year I kind of sat back, especially when the injury came, and then I started finding my way back into that big leadership role.

"Now you know it's full head, I'm going into year two, it ain't no more rookie this, rookie that. You go out there and do your job and if you see somebody slacking you make sure you pick them up and bring them along with you."
Before you accuse White of getting ahead of himself, it's important to realize the franchise anointed him as a leader from the moment he turned pro. He's learning what it takes by watching Lavonte David, who also harbors high expectations for this unit.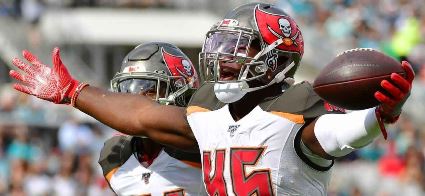 When the schedule maker sends you to the Superdome in Week 1, there's no time to ease into prime form. Drew Brees, Michael Thomas and Alvin Kamara will be waiting, along with newcomer Emmanuel Sanders.
"I take away that we grew weekly, I take away that we got a ceiling that's higher than ever," White said. "Anybody can come into this defense and they can play very well as long as they stick to what coach wants us to do. That's the thing I can say man, as long as we got coach Bowles calling the plays, I feel like we're going to be a tremendous defense.

"With me, I'm going to pick up my game in the offseason. The defense is going to have to come, whoever is going to be here is going to have to rise with me."
White wasn't spectacular as a rookie, but he flashed often enough to get this coaching staff excited. His coverage skills improved steadily and Bowles may turn him loose more often on inside blitzes to supplement the pass rush.
"At the end of the day, I play this game to be one of the greatest linebackers ever and be a winner," White said. "At the end of the day, that's what it's all about and I'm bringing everybody with me."
All aboard.