"He Gonna Be Annoyed At Me; I'll Tell You That"
May 23rd, 2020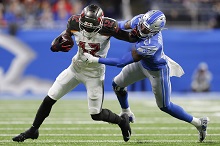 Cameron Brate is a little worried about pissing off NFL legend and new Bucs quarterback Tom Brady, but Chris Godwin is looking forward to it.
Who doesn't love Chris Godwin, arguably the best draft pick of the Jason Licht era?
The Pro Bowl receiver was chatting this week on Buccaneers.com was asked about learning of Brady landing in Tampa. Godwin talked about thought talk of Brady potentially signing with the Bucs was a pile of nonsense. And then when it appeared Brady would choose between the Chargers and Bucs, Godwin said he was thinking there's no way the choice will be Tampa.
The shock wore off and now Godwin says he is fired up by opportunities to pick Brady's brain, which he said will continue relentlessly. "He gonna be annoyed at me; I'll tell you that," Godwin added.
Joe loved the spirit with which Godwin said all that, and Joe believes that's what will happen.
The Bucs' fourth-year receiver is marching into a contract year and, with the Brady in town and the Bucs playing repeatedly in prime time, Godwin is primed to become an $18 million-per-year receiver. Joe is confident Godwin knows it and is smart enough to embrace everything he can to become a mega-rich star.