Devin White Talks Tom Brady Improving The Defense, Signing His Jersey
May 4th, 2020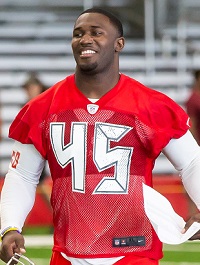 Buccaneers savior linebacker Devin White is fired up about Tom Brady joining the Bucs for multiple reasons.
Joe will share a couple here:
Last year's No. 5 overall draft pick is looking forward to Brady raising the challenge in practice and the entire defense learning from it. He's expecting a big difference between Brady and the guy he replaced.
"Probably like when we played the Saints. Drew Brees was always 10 steps ahead," White said. "Like he always knew what to check to; he always knew what to do. And that's just the difference between a guy playing 20 years and a guy playing five years or a guy playing two years in the NFL. So I'm going to get more work in practice now going against Tom Brady. It's just going to feel like going against Drew Brees.

"Because man, when we played the Saints, he did some unbelievable stuff as far as just checks and knowing where to go with the football and knowing where the hot was. Picking up the coverages, even when we disguised it, he was still able to pick it up. Mastermind."
White said when Brady was signed he was ecstatic, but it had nothing to do with the departure of Jameis Winston, of whom White said, "We had a real great relationship." It was about the Brady fanboy inside him.
"My excitement level was at an all-time high not because of, you know, what he can do, but I think it was more of me being a fan. I've always been a Tom Brady fan, like I've got multiple jerseys in my closet," White said.
All the chatter from White came during a visit to the Tampa Bay 55 podcast last month. He revealed Brady was in touch with him directly and also responded to an Instagram message White sent his way long before he was drafted.
In 2018, White messaged Brady asking for an autograph. Per White, Brady told him recently, "Yeah, i'll sign that jersey. I'll do anything for you. We're teammates."