"But What He Leaves Behind"
May 23rd, 2020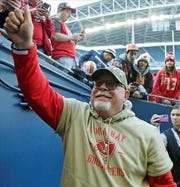 A member of the Buccaneers hierarchy was quoted anonymously this week by a major publication and it's rather intriguing commentary considering the Bucs have a two-time NFL Coach of the Year leading the charge.
Albert Breer of Sports Illustrated published a look at Ryan Jensen's first in-person impressions of Tom Brady, which included the following peek inside the minds running the Bucs.
In the days after the signing, I was talking with someone in the hierarchy there who said the expectation was that Brady's mere presence would raise the bar for everyone on a talented young team, and that was more than a small piece of the logic in signing No. 12.

"A thousand percent," this person said. "The standard just rose. What he brings is going to be, obviously, extremely valuable. But what he leaves behind, whenever that is, hopefully it's more than two years, is equally as valuable. It's awesome. He's a different breed."
This really is one of the more intriguing X-factors the 2020 season.
The Bucs' brass is happy and quick to say Mike Evans and Chris Godwin essentially are perfect players when it comes to their commitment, work ethic and production. The regime also loves its offensive line. Hey, they keep on keepin' the band together.
And fans are told Ndamukong Suh, Lavonte David and Jason Pierre-Paul are supreme leaders, and they'll tell you Devin White was drafted, in part, for his leadership.
Bucco Bruce Arians also is lauded for his command of the largest coaching staff in the NFL.
So how much exactly is Brady really going raise everyone's games?  Joe can't answer that, but Brady is human, and operating on limited time in a new offense without the greatest coach in NFL history.
Joe hopes the Brady magic and leadership really is on a such a ridiculous new level that it changes the franchise indefinitely. And Joe also hopes the Bucs brass and Team Glazer realize that "what he leaves behind" should include a young QB that developed at The Goat's feet.