Bruce Arians' Son Talks Jameis Winston's Departure
May 12th, 2020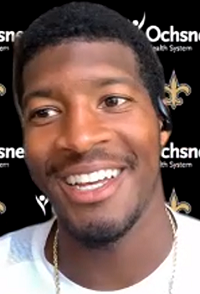 Remember those backhanded blasts at the Tampa Bay coaching staff from America's Backup Quarterback, Jameis Winston, the former Pro Bowler and NFL-convicted-crotch-groper who led the Bucs for the past five seasons?
Bruce Arians' son does.
Jake Arians is one of Joe's favorite analysts. He's blunt, concise, passionate and informed. Seriously, Joe's not stroking anyone here. Joe's been listening to Arians' TDN Fantasy football podcast since Bruce Arians was hired to coach the Bucs.
On a recent episode, the younger Arians weighed in on Jameis heading to the Saints, and Arians was no fan of Jameis' pokes at his past coaches.
"I was [surprised]," Jake Arians said of Jameis signing in New Orleans. "I mean, he's infatuated with Drew Brees. He loves Drew Brees. I get that he wanted to step back, but basically it said he didn't have any really options to go be a starter. And then the best backup role would be, 'Ok. I know this division well. If I have to play, I've already done gameplans against a lot of these [teams].'

"The money was ridiculous; I can't believe how much more money [Marcus] Mariota got to be a just-backup than Jameis is getting to be a co-backup, or whatever the hell they're calling it. And look, I wish him the best, he's a good kid. You know, he's trying to blow up his new team and he's made a couple of mistakes along the way. But the Bucs have moved on and we wish him nothing but the best. It was an interesting landing spot. …"

"Apparently Drew Brees and Sean Payton know more about quarterback play than everybody else in the world, so he's going to sit back and learn a ton, and won't have to Google it. His words, not mine."
Yes, Jameis, after signing with the Saints, painted himself as a former lone wolf QB student needing Google to assist him. (See link above) It was a funny comment, and certainly one that sounded like Jameis is no fan of his past coaches.
Regardless, Jake Arians thinks Jameis has a viable future in the NFL.
"Jameis Winston is much better than Marcus Mariota in every offense," he added, noting how Mariota is earning much more than Jameis has Chucky's backup. "There was no [starting] market [for Jameis] which shocked me, to be honest with you."
Maybe Jameis will learn a ton in New Orleans. Different voices might be what Jameis needs. Not every teacher fits every student.
Also, Brees should be an incredible influence. As a rookie, the Bucs gave Jameis two years of Mike Glennon from which to learn, and then they gave him two years of Ryan Fitzpatrick. It seems Jameis learned how to become a backup.