"Opposed To Trying To Learn By Myself Or Use Google"
April 30th, 2020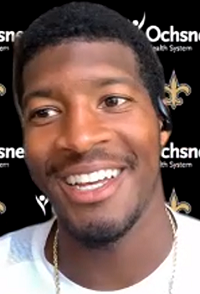 The Saints' assistant general manager took a swipe at Bucs coaches past and present this week, and the newest member of the Saints, America's Backup Quarterback Jameis Winston, seemed to take another yesterday.
Jameis had a video news conference with Saints media that went beyond 20 minutes.
The former Bucs franchise QB was asked about walking into a situation where he's more student than "the guy." Jameis' answer included an odd take that painted himself as a guy forced to learn on his own in the past.
"… When you see what happened last year with the amount of playtime with Taysom (Hill) and Teddy (Bridgewater) got, I'm not saying that I'm going to expect that this year, but those guys were prepared and that's what I'm going to be," Jameis said. "I'm going to be prepared for whatever. Being a quarterback, you have to be a student of the game. So now I actually get a chance to dive into that more and I actually have a Hall of Fame quarterback that I'm learning from, opposed to trying to learn by myself or use Google."
Joe wonders if Jameis ever Googled, "stopping football turnovers." Regardless, it sure felt like an odd take, and Jameis wasn't laughing or flashing his trademark smile when he said it.
Earlier in the news conference, Jameis credited a Bucs legend and one of his mentors for guidance that led to his decision to join New Orleans.
"So despite a lot of different things that come with this game, like money and celebrity status, I think one thing that Derrick Brooks taught me through my time with him from Florida State to now is you've got to respect the game and the game will always be bigger than you and the game will always win," Jameis said. "In my experience of being a football player, a professional football player, the game has won."
Training camps should be kicking off in 91 days.