Brady Commitment Questioned
May 20th, 2020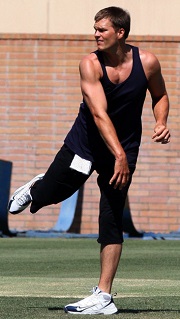 A Patriots beat writer is pointing a virtual finger at Tom Brady and saying, 'See. See. See.'
Ryan Hannable covers the Patriots for Boston sports radio giant WEEI, and he took to their website to bark about Brady working out yesterday at Berkeley Prep private school in Tampa with his Bucs teammates. It's proof, Hannable says, that Brady wasn't all-in with New England.
Brady engaging in a spring practice is the "evidence."
Although some examples were not as big as others, Tom Brady changed in his final few years as a member of the Patriots.

The biggest example was the lack of commitment to his teammates during the offseason, as for his final two seasons he did not attend OTAs during the spring and only attended the three days of mandatory minicamp.

As for why he did not attend these workouts, last June Brady cited family reasons. …

This clearly is evidence the Patriots quarterback was not the same guy in his last few years in New England. Brady no longer was doing everything in his power to make sure he and the rest of the offense were as prepared as possible for the upcoming season.

As for the reason why?

Perhaps Brady knew his time in New England was coming to an end and if that were the case it's natural to no longer put forth the same effort as before. Think about it, if you've accepted a new job, are you going to work equally as hard as you did for your old employer?
Joe found this a little comical considering the Patriots won the Super Bowl during the 2018 season. Brady explained on The Howard Stern Show last month that his supermodel wife had been pressuring him to invest more offseason time with his family and he decided to do that in recent years.
Regardless, Brady is all-in now with his teammates as he tries to learn on the run without the benefits of official team practices. Joe hopes all Patriots fans are jealous and bitter.