Tom Brady Talks "Authenticity"
April 8th, 2020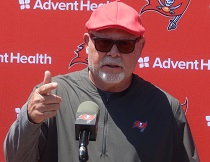 So why did Tom Brady choose the Tampa Bay Buccaneers?
He offered a couple of reasons today, and answered a question posed by Howard Stern about what it was like to have the Bucs fawn over him in free agency.
Stern said to Brady, "They must have sucked your d&*% to get you to go to Tampa." Brady laughed and said, "It felt good" before continuing the rest of the answer.
(Funny how Brady never mentioned selling himself to the Bucs as the story was told by some mainstream news outlets),
Brady was clear that Chris Godwin and Mike Evans were a big part of his signing with the Bucs, as was coaching.
"I like him a lot," Brady said of Bucco Bruce Arians. "He's part of the reason I chose here … Coaching obviously was important, hugely important…. [Arians] has a different way about him but it's authentic to him."
Brady went to say authenticity is critical and he likes what he's heard from Arians and of Arians' reputation, adding he looks forward to getting to know him.