There Should Be No Debate
April 21st, 2020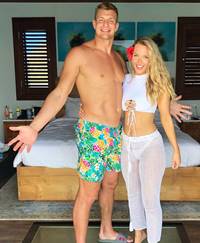 Joe noticed some people on Twitter are apprehensive about trading a fourth-round pick for future Hall of Fame tight end Rob Gronkowski.
C'mon, people!
Earlier today, the Bucs obtained the previously retired Gronk for a fourth-round pick, No. 139 overall and got back a seventh-rounder from the Belicheats. Some folks even winced about throwing away a fourth-round pick.
Really. Really?
So Joe decided to go through the history of Bucs fourth-round picks this century.
John Howell
Travis Stephens
Austin King
Lance Nimmo
Will Allen
Dan Buenning
Alan Zemaitis
Tanard Jackson
Dre Moore
Sackless Kyle Moore
Stripper pole-swinging, mattress-in-the-yard Mike Williams
Luke Stocker
Will Gholston
Kneeling Akeem Spence
Kwon Alexander
Ryan Smith
Jordan Whitehead
Anthony Nelson
Look at that list. Who is the best? Will Gholston? Kwon Alexander? Tanard Jackson was pretty good but he smoked himself out of the league (allegedly). Mike Williams was pretty good but he basically threw in the towel after he got his second contract and tried to go all rap star.
Are any of those guys listed remotely thought to be a Hall of Fame player? Hell no!
Granted, acquiring Gronk does come with risk. He was retired for a year. He is not in football shape. He is injury-prone.
Still, when he is on the field and healthy, Gronk has Hall of Fame talent and possibly is the best tight end in the game. Even someone like Kwon, himself injury-prone, would be worth trading even up for Gronk.
Anyone suggesting the Bucs got hosed by Bill Belicheat here, well, it simply doesn't wash with Joe.