O.J. Howard "Isn't Happy"
April 22nd, 2020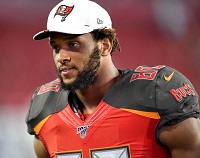 It seems not everyone is doing shots at speakeasies throughout the Bay area over Bucs AC/DC-loving general manager Jason Licht getting over on Bill Belicheat.
(Yes, in some cities due to lockdowns for The Sickness, illegal speakeasies are cropping up like in the 1920s Prohibition era.)
Now Joe has brought information to his readers from the guy who runs The Draft Network, J.C. Cornell, because Joe knows of his direct pipeline to shot-callers at One Buc Palace.
And Cornell's scoops have often been far more correct than not.
So a few hours after news broke that the Bucs traded for future Hall of Fame tight end Rob Gronkowski, Cornell twittered that the Bucs likely will try to trade Howard by this weekend, in part, because Howard is unhappy with recent developments.
Look for the Bucs to trade OJ Howard on day 2. Howard isn't happy with his situation in Tampa but the Bucs will keep him if they don't receive the right compensation.

— JC Cornell (@CornellNFL) April 21, 2020
Well, it's going to be an awfully crowded tight end room at One Buc Palace if someone isn't traded. Joe is going to guess that the Bucs will want to keep a tight end who can produce as Gronk is injury-prone. That would be Cam Brate.
Antony Auclair returns this season. He's a fine blocker.
That leaves Howard, a former first-round draft pick with mad skills, as the odd man out. Since he is still under his rookie deal, he will be easier to move as he is cheap(er).
Joe isn't so sure that the Bucs acquiring Gronk is what has gotten under Howard's skin (allegedly). It is fresh in Joe's noggin' how Howard, during an episode of the "Tampa 55 podcast," asked when he plans to link up with Brady and maybe start working out with him, Howard replied, "Within the next couple of months or so."
Huh? Your team just got the best NFL quarterback this century and you have no sense of urgency or burning desire to hop on a plane and get back to Tampa to start building chemistry with him?
That seemed odd to Joe at the time, and it remains weird. Prior to that in late March, Howard told SportsCenter that he hadn't communicated with any teammates about Brady signing with the Bucs.
Joe senses Howard has wanted out of Tampa Bay longer than just yesterday afternoon.