O.J. Howard Reacts
March 30th, 2020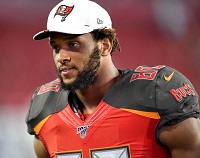 One week ago, O.J. Howard was on SportsCenter talking Tom Brady and had a couple of surprising things to say.
First, Howard said he hadn't had any conversations, not even by text, with any teammates about Brady coming to the Bucs. And that was six days after various reports had Brady signing with the Bucs.
Joe found that extremely odd, and Howard added that he had yet to hear from Brady, who allegedly asked the Bucs for phone list of his new teammates. That written, Howard said he's extremely excited about Brady's arrival (but he didn't text a teammate?) and is training inside his Alabama garage.
Previously, Howard had been working out regularly with early-morning sessions at the University of Alabama, he said, but Coronavirus sent him back home.
"It's kind of hard to put it all in perspective," Howard said of the Brady signing, almost seeming overwhelmed by the thought.
ESPN stat gremlins noted during the telecast that the Bucs have thrown the fourth-most touchdowns to tight ends over the past three seasons, though Howard only caught one TD last season in 14 games.
Joe hopes Howard has since found a teammate to text with about Brady, including Brady himself.