"More Times To Hit Him"
April 9th, 2020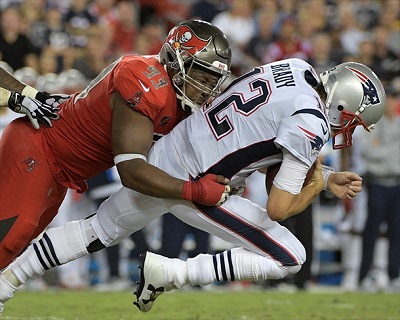 Tom Brady will bring a lot to the Bucs. Heck, they way Tampa Bay management talks, Brady will improve everything from the team's sad marketing campaigns to Mike Edwards' play and the running back evaluation skills of Bucco Bruce Arians and Jason Licht.
But rarely talked about is the fire Brady sparks in opponents.
When you face the greatest, you raise your game, or you at least try to. The Bucs aren't used to being on the other end of that kind of juice every week. Every opponent facing the Bucs will now bring its A-game.
Saints Pro Bowl DE Cameron Jordan reminded Joe of this rarely-discussed wrinkle during his recent chat on SiriusXM NFL Radio.
Jordan talked about how exciting it is to have Brady in the NFC South. "More times to hit him," Jordan said, sounding like a guy who'd love to deliver the hit ends Brady's career.
He went on to talk about the Bucs as a serious contender. "We know the talent that he has. He has Mike Evans, he has Godwin, he has O.J. Howard. They got Bruce Arians now," Jordan said.
That's a quite a departure from 13 months ago, when Jordan publicly made fun of Donovan Smith's play.
Hearing Jordan made Joe think of how hyped up the Bucs were to face the Patriots at home on Thursday Night Football back in 2017.
Jameis Winston and friends had a 2-1 record and were fired up to face "The Goat." The Bucs lost a hard-fought game 19-14, thanks in part to three missed field goals by Nick Folk. And the Bucs literally never recovered, dropping their next four games after seemingly blowing everything they had left to give against Brady and the Patriots.