Emotional Raymond Calais Video
April 29th, 2020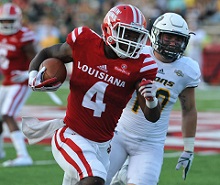 Strong stuff here from the ABC-TV affiliate in Lafayette, Louisiana, the 123rd biggest media market in the country.
The Buccaneers' final pick of Saturday's seventh round, running back Raymond Calais, is from the area and played running back for the University of Louisiana-Lafayette. The TV station had a camera in his living room during Day 3 of the draft.
They captured the glory and the agony, including when Calais' phone rang during Round 6 from a team that said we want to draft you but we're not sure. Ouch!
Then more teams called to sell Calais on being an undrafted free agent. In fact, per the station's written report, Calais committed to another team as he lost hope of being drafted.
And then came the call from Bucco Bruce Arians.
Here's the TV report below: Joe loves this kind of reality stuff.
Arians says Calais is a smaller, faster version of David Johnson with Tarik Cohen-like quickness. We shall see.