The Bucs' Biggest Post-Draft Challenge
April 29th, 2020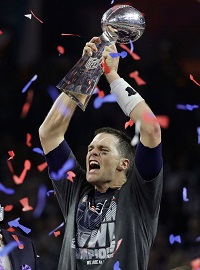 The draft is over. The Tampa Bay roster core is set.
One of Tom Brady's good friends is weighing in.
In a segment on SiriusXM NFL Radio focused on post-draft needs and questions of all NFL teams, the conversation swung to the Buccaneers.
Weighing in was co-host and former Patriots, Jets and Chiefs offensive coordinator Charlie Weis, the man who tutored Brady as a young player and pulled Pro Bowl seasons from Vinny Testaverde (Jets) and Matt Cassel (Chiefs).
Weis seemed to think the Bucs roster has all it needs to win big on paper, but the mentality of the team is unknown.
Going from perennial losers to the ultimate spotlight is a job for the Bucs' new Superman, Weis said.
"I think that expectations, managing expectations, will be the biggest question," Weis said. "Because now you go from an also-ran no one was expecting anything of to a team that everyone's expecting to be a contender. You know, will there be enough maturity in there? Now you know Tommy will be a big difference. Because he walks into the locker room, it isn't just the offensive guys that he's the captain of. He'll be a captain of the team and that's the way he looks at it. He spends as much time in the locker room talking to defensive guys. If they all buy in to what he's sellin', you better look out for this team now."
How much can Brady influence a 53-man roster without spring practices and in a training camp that will test his comfort level with the offense and be very much about him building elite chemistry with his pass catchers?
Joe thinks that's an awful lot to put on Brady. Joe's more interested in seeing Todd Bowles coach up his defensive backs and find the right looks and blitzes to keep the Bucs pass rush unpredictable and effective.
---
TAMPA TWO serves up a can't-miss, post-draft episode with Bucs legend Derrick Brooks and JoeBucsFan.com columnist Ira Kaufman delivering all kinds of takes out of the 2020 NFL Draft, presented by The Identity Tampa Bay. Enjoy!