The High Hurdle
April 29th, 2020
BY IRA KAUFMAN
The Buccaneers find themselves with company in the all-in sweepstakes.
A sense of urgency permeates the NFC South, where the Bucs and Saints are reshaping their rosters to fit the specs of a short window. That's what happens when one quarterback turns 43 in August (Tom Brady) and another (Drew Brees) is 41 and already has a broadcasting job lined up for 2021.
The Bucs finished six games behind New Orleans last season, despite scoring exactly the same number of points (458).
Winning the division is critical to Super Bowl aspirations because only once in the past 12 years has a wild-card club reached the NFL's showcase game. The 2010 Packers, who finished with the same 10-6 record as Tampa Bay, won three road games before beating Pittsburgh at Cowboys Stadium.
In the aftermath of the draft, Bruce Arians and Sean Payton are eyeing each other warily, for good reason.
The Saints have ruled this division for three consecutive years and this is likely the final chance for Brees to hoist the Vince Lombardi Trophy for a second time.
How final? You don't sign 33-year-old Emmanuel Sanders and 32-year-old Malcolm Jenkins as free agents unless it's all about the 2020 season.
Jared Cook, who quietly led NFC tight ends with nine TD catches, is 33, so Michael Thomas finds himself surrounded by the NFL's version of Jurassic Park.
In the draft, New Orleans selected center Cesar Ruiz and traded up for linebacker Zack Baun. Both are expected to start for a team that has posted a 37-11 record since 2017, only to suffer some galling playoff setbacks.
"We weren't drafting someone that high to come in and be a backup," Payton says about Ruiz, who will likely be shifted to guard this fall.
New Era
There was a time not long ago when the Bucs showed little interest in adding or bringing back any player who had turned 30. Brady's arrival changed that mindset in a big way, so Jason Licht rolled out the welcome mat for Ndamukong Suh, Jason Pierre-Paul and Rob Gronkowski.
In theory, they will play key roles in dethroning the Saints, who allowed 108 fewer points than Tampa Bay. A major factor in that glaring disparity was the turnover chasm between the teams.
While the Bucs topped the NFL with 41 giveaways, the Saints set a league record for fewest turnovers (8) in a season. That's an average difference of two giveaways per game and Arians is convinced that was the winning edge for Payton and an underrated coaching staff.
For the most part, NFL depth charts are set. While the Bucs and Saints might add a few late training camp cuts, these are the rosters that will compete in the fall.
Tampa Bay hasn't swept New Orleans since 2007, when Jon Gruden was preparing the Bucs for their last postseason matchup. That was only Year 2 for the remarkable collaboration between Brees and Payton.
Now, that partnership is approaching its conclusion, so the Saints decided to take out an insurance policy for 2020 by signing Jameis Winston. Brees has been amazingly durable, but he missed five games last year and the Saints won all five with Teddy Bridgewater under center.
You never know.
Winston's presence behind Brees gives the Saints an edge over Tampa Bay at the game's most important position. It may not come into play — but it might. If Brady is sidelined for five games, the Bucs will turn to Blaine Gabbert, whose main attribute is he knows Arians' offense.
Fourth Down, Last Call
Little things like special teams have set the Saints apart from their division counterparts.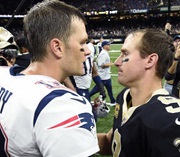 Will Lutz was the NFL's No. 2 scorer, converting 32-of-36 FG tries and missing only once in 49 extra-point attempts. Meanwhile, rookie Matt Gay was unsuccessful on 5 PAT attempts and 8 FG tries.
Little things.
Thomas Morstead is an elite punter whose net average of 43.1 yards was almost 5 yards better than Bradley Pinion. Undrafted rookie free agent Deonte Harris made the Pro Bowl as a return specialist and don't forget about the impact of Taysom Hill. Four different Saints blocked or deflected a punt in 2019.
Little things.
The Bucs won't finish minus-13 in turnover differential again if Brady stays healthy, but the Saints aren't going away.
If this is indeed the final roundup for Payton and Brees, that's a hard truth for the Big Easy. But Tampa Bay's desperate quest for a division crown is about to be met by an equally driven champion.
Two Hall of Fame quarterbacks in their 40s. Two windows closing. Two starving fan bases.
Sounds like fun.