How Much Better Will It Get?
April 22nd, 2020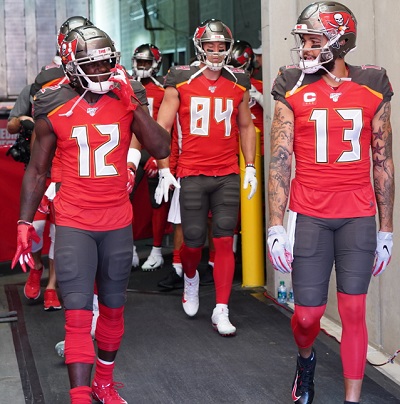 Through the last 10 NFL seasons, only 14 teams have averaged 30 points or more in a regular season.
Last year, the Bucs scored 28.6 points per game with a subpar kicking game.
Joe finds those to be a fascinating set of stats because the Bucs just made significant upgrades at quarterback and tight end, and they plan to do the same at running back this week. Plus, they may already have upgraded at right tackle.
So how much better can the offense get? What's even realistic?
During the Arizona Cardinals' best season under Bucco Bruce Arians, they averaged 31.1 points and went 13-3. But they also had the NFL's fifth-ranked defense with a 29-year-old Calais Campbell ravaging offensive lines and three — three —  Pro Bowl defensive backs.
Do the Bucs have one potential Pro Bowl defensive back for the 2020 season? That's something to think about when you ponder what the Bucs might do the NFL Draft this week.
Of the 14 teams that racked up 30-plus points per game over the past decade, four were led by Tom Brady.
Frankly, when you add up the numbers and look at the Bucs' roster, it should be hard for the Bucs to average less than 30 points per game this year. If it happens, it likely would be a significant underachievement, especially if Brady isn't throwing 30 interceptions.
All this firepower is a lot of fun and the depth is fantastic, but there's still just one football.
Joe thinks it's a strong bet that defense will be more of focus in the Bucs' draft than many fans believe — unless Arians want to build the greatest offense in history and flat out try to outscore people en route to a Super Bowl. Regardless, either decision should make for an unusually fun Bucs season.