Gronkowski Says He Knows No Bucs Other Than Brady And Talked To Bruce Arians For 1 Minute
April 22nd, 2020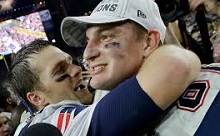 Rob Gronkowski mispronounced the names Chris Godwin and Cameron Brate today as he talked to Joe and other media via a conference call.
Yes, Gronk revealed that he's very much a newcomer to the world of the Bucs.
Joe asked Gronk about his impressions of Bucco Bruce Arians and how he compares to Bill Belicheat based on their conversations.
"I've actually only talked to [Arians] for about a quick minute, you know. We just got to meet and greet each other over the phone," Gronk said.
That really intrigued Joe. One might think the Patriots would have given the Bucs a chance to talk to Gronkowski before executing the trade, given that he was retired last year and the Bucs would be on the hook for $10 million. Instead, it seems that Tom Brady gave the green light, oily Drew Rosenhaus gave his worked and Jason Licht reached terms with Belicheat.
Gronk said players across the NFL gave him confidence that Arians is his kind of coach. "They all told me I'm going to love playing for him and that's great to hear."

"I've heard he's a football master also," Gronk continued, "and I love being around football masters."
Gronk said he knows no player on the Bucs outside of Brady, and when asked about the roster he gave little detail.