Tom Brady, A Game Manager?
March 26th, 2020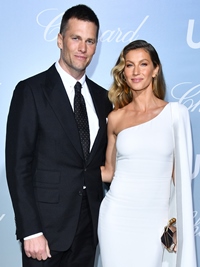 Yes, Joe understands full well that new Bucs quarterback Tom Brady (it's going to take a while for Joe to get used to typing that!) is the anti-Jameis. But a game manager?
That sure is what Colin Cowherd seems to be peddling.
In a recent edition of his FS1 weekday show, Cowherd said to find what type of quarterback Bucs coach Bucco Bruce Arians wanted to replace Jameis, look at the other quarterback Arians was hot in the pants for: Teddy Bridgewater.
What is Bridgewater? Cowherd correctly pointed out he's a game manager. Boring. Vanilla. Run of the mill. Pedestrian. Yawn-inducing. Time-to-get-up-and-use-the-bathroom signal-caller.
Bridgewater's greatest strength is he doesn't make mistakes, Cowherd said. And that's Brady. Sort of. Brady is a wildly talented quarterback in the twilight of his Hall of Fame career who isn't prone to mistakes.
This seems to be the antithesis of what Arians likes in a quarterback but Joe thinks Cowherd is on to something.
Unfortunately for Cowherd, he blew his argument with his Alex Smith analogy. The Chiefs actually broke their playoff curse and won a Super Bowl with a Jameis-like quarterback, not Checkdown Charlie Smith.
You can view the segment below. Joe isn't sure he would label Brady a game manager, but Joe sees Cowherd working here.
"Tampa is telling you, 'We've got all sorts of players. We don't need a superstar at QB. We need a guy who can distribute the ball to our scorers.'"@ColinCowherd explains why the Buccaneers QB search reportedly came down to Tom Brady & Teddy Bridgewater: pic.twitter.com/l6e1wA1XW2

— Herd w/Colin Cowherd (@TheHerd) March 25, 2020