Time To Draft A Quarterback
March 19th, 2020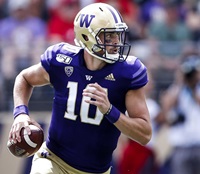 Are the Bucs going to play it smart, or will they play to win at all costs in 2020?
You could make a strong argument on either side.
Draft the best QB you can find now and let him sit in the perfect incubator, behind 43-year-old Tom Brady and alongside an impressive team of quarterback coaches. It's a no-brainer, right?
Well, the Bucs may think, 'Heck, we'll draft a guy next year. This year is about going all-in to win in 2020. We want to use all early picks for quick-impact studs.'
There are merits to both sides.
But Joe was slightly annoyed the Bucs didn't draft a quarterback in the late rounds last season. And Joe already has argued on the Ira Kaufman Podcast for the Bucs to invest heavily in a QB next month.
Former Jets assistant coach and personnel chief Pat Kirwan, top-dog host on SiriusXM NFL Radio, said yesterday (multiple times) that the Bucs should be dropping major draft capital on a quarterback immediately.
"Wouldn't you draft, now again, I'm going to promote the [Jacob] Eason kid. Eason's not ready to play, a 6-6 guy that has a cannon arm. Wouldn't you like him sitting in the quarterback room behind Brady for two years," Kirwan said.
Eason, out of the University of Washington, largely is viewed as a mid-to-late pick in Round 1. Joe's not lobbying for Eason, per se, but Joe would applaud the Bucs drafting a quarterback early. It's still the most important position in football and the Brady dream won't last forever.
It's a fun debate.