"There Was No Consistency Along That Offensive Line Last Year"
March 16th, 2020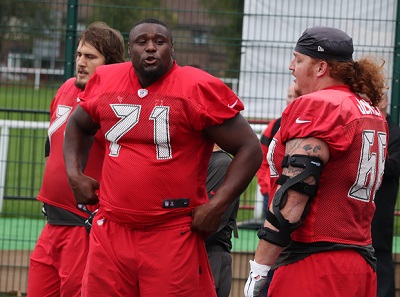 What will Tom Brady think of the Buccaneers' offensive line?
Joe sure hopes Brady doesn't call former Bucs, Bears and Saints tight end John Gilmore, who collects a check from Team Glazer.
Gilmore is heard on the Buccaneers Radio Network and today he was talking Bucs on WDAE radio.
He's confident the Bucs will move aggressively to upgrade the running game and the trenches — out of a serious need.
"I expect the Bucs to draft both offensive line and running back in this year's draft," Gilmore said. "I mean, there were some times, you know, that our guys put some pretty good stuff on tape up front, but it was so hit-or-miss. There's no consistency along that offensive line last year. They weren't the best in pass protection. I pegged them more as a run-first offensive line. They had a few good games. They put some good plays on tape, but if I had to look at the full body of work for the season, it was very inconsistent.

"I like the one-two punch in Peyton [Barber] and Ronald Jones; I just don't think either one of them is that premier running back that can lead the Bucs into that Super Bowl championship run, if we're going to go ahead and lean on the run. But last year we couldn't do that. We were a pass-first team. And I just don't think we were the greatest up front in protection for Jameis [Winston]. Again, that's another one that's a little disconcerting when you think about a Tom Brady. If you get a Tom Brady, you gotta find a way to protect him."
Again, Gilmore was paid by the Bucs to analyze the Bucs. (Joe assumes he'll have the same role in 2020).
No O-line is perfect, but Joe simply cannot moan a lot about the line for a team that racked up loads of passing yards over the past two seasons. And keep in mind Bucco Bruce Arians himself essentially kept the status quo on the line when he took over for Dirk Koetter.
Running back help? Yes, the Bucs are desperate there, or should be.