The Bucs & Leonard Fournette
March 15th, 2020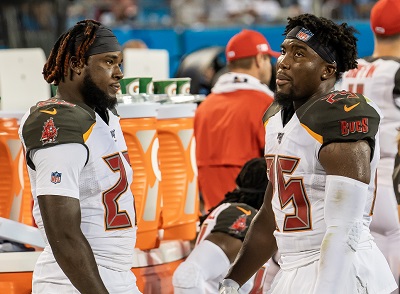 Fresh news today reveals more evidence of the fire sale happening in Jacksonvile.
Five-time Pro Bowl defensive end Calais Campbell and his massive salary were traded to Baltimore for a fifth-round pick. The Jaguars have made multiple moves to tear apart their talented defense, in addition to them lacking a quality starting quarterback and DE stud Yannick Ngakoue saying goodbye to fans while still being under team control.
It's a mess in Jacksonville and Joe expects more change there, which brings Joe to Jags running back Leonard Fournette. He can run and he can catch, and he's 25 years old coming off his best season, 1,152 yards rushing and 76 receptions.
It sure feels like Fournette, who has had his share of issues in Jacksonville, is the exact kind of player that would flourish with a change of scenery and specifically in a Bucs offense that doesn't have defenses keying on the run every darn snap.
He's got a year remaining on his rookie deal ($4 million) plus a fifth-year option.
Yes, if Joe were Bucco Bruce Arians and Jason Licht, Joe would be calling Jacksonville to see if they want to deal Fournette. Whatever Arians has said about his "solid" running game, thinking Bucs fans know that's baloney. The run game must be fixed, and the sooner the Bucs do it, the more flexibility they'll have in free agency and the draft.
Joe absolutely would consider trading a young talented Buccaneer for Fournette as part of a package. Tight end is a major need for the Jaguars and has been for years.