Smaller. Slower. Better?
March 24th, 2020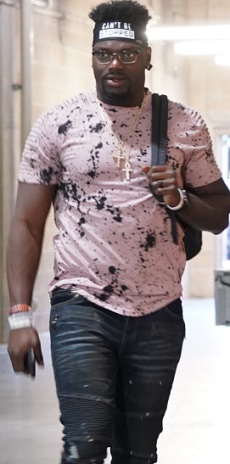 Bucs sacks legend Shaq Barrett found his way to national radio this afternoon and possibly made his agent cringe.
Shaq and his 19 1/2 sacks scored the expensive franchise tag from the Buccaneers this month. And he sure earned every penny. But will Shaq be the same player next season?
Speaking on The Jim Rome Show today, Shaq explained that he only plays at 235 or 240 pounds and isn't a special athlete. But it's all about maxing out his strengths that include finer points of the game.
"I already know I'm not stronger than the person I'm going against anyway," Barret told The Jim Rome Show. "I just gotta use my skills and all my keys to help me to be the best that I can be. I'm not just going up and trying to manhandle him and just go straight through the guy. Like I just use everything; there are times when you can do that and times when you gotta finesse. I try to keep him guessing, keep him off page of what I'm doing. Because I am a little bit smaller; I don't have as much power. My speed is pretty good but it's not like top-end as the top people. I just use all my surroundings and all my keys to succeed."
Listening to Shaq talk, it really felt like he knows he had a miracle season, even though Shaq is determined to keep grinding in all facets to stay great. Joe sure hopes Shaq can remain at least an 11- or 12-sack guy.
Shaq went on to say he'll miss Carl Nassib and so will the team. But Shaq is confident the Bucs, with Tom Brady and a great work ethic, are primed "to change the mediocrity into winning and playoffs and championships."