Bruce Arians: I'll "Steal Some Ideas" From Tom Brady & Patriots Offense Is Similar To Bucs'
March 24th, 2020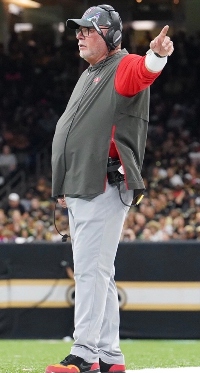 Bucco Bruce Arians says he can't sleep because he's so eager to get rolling with his new quarterback, Tom Brady.
They will dive in together and figure where everything fits, Arians explained on national radio today.
"We share very similar philosophies," Arians told The Rich Eisen Show. "Just throw it to the guy who's open, and that's what he's always done. I think he's a perfect fit.

"My philosophy's always been great collaboration with the quarterback, no matter who it's been. It's the offense of the Buccaneers. He's going to come in, he's going to learn the terminology. He's all-in. I can't wait to get started. We'll steal some ideas from him, whether it be third-down, red zone. What his favorite stuff is, I'm sure it's in our offense already. Watching their tape, very, very similar stuff.  I love collaborating with great minds, and that's one of the greatest minds ever."
Brady's enthusiasm level was extraordinary when they talked, Arians said, and the head coach felt great about the reality of Brady coming to Tampa when they hung up the phone.
"His excitement level was off the charts. I couldn't wait to go to practice," Arians said.
Interesting to hear Brady say how the plays Brady likes already will be in the Bucs' playbook. None of this should be very complicated. The challenge will be the rest of the Bucs, not Brady, performing under extreme pressure.