Shaq Barrett Talks Ongoing Contract Negotiations, Lack Of Food Options, And Coronavirus
March 17th, 2020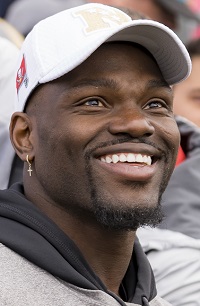 Yes, Shaq Barrett was slapped with the franchise tag on Saturday by the Tampa Bay Buccaneers.
He saw it coming, but he also expects a new contract before the season.
Shaq told ESPN just before the franchise tag announcement that the tag would be, he hopes, a step in the process
"It still can go all the way up until July. It could be next week. It could be tomorrow. I'm not really rushing. I'm being patient," Shaq said about a new deal in a chat with Adam Schefter.
Shaq is confident he'll "earn the reward that I should be about to receive."
There was no bitterness in Shaq about the franchise tag, which is just a one-year deal. He acknowledged it's far more money than he's ever seen in his life.
One subject that arose was Shaq having a lot of body fat coming out of college at Colorado State. Bucs general manager Jason Licht publicly acknowledged that likely hurt Shaq's draft stock around the league, though it was clear he was a very sound football player.
Shaq explained to Schefter that he was not on the meal plan at Colorado State and a tight budget at home led him to not eat a healthy diet, so he had too much body fat.
The NFL offseason is a time Shaq uses to lean out his body, he said, so he returns to OTA practices smaller and will put muscle back on with the team.
The current leaning out process, Shaq said, has him focused on protein shakes, teriyaki chicken, rice and steak.
On the coronavirus front, Shaq said for the past two years he's been rampant hand-sanitizer guy at all times, so all the current cleanliness guidelines don't faze him. He cancelled a spring break trip and is enjoying home life with his wife and kids.