Rex Ryan: Tom Brady Thrived With No Line, No Weapons
March 18th, 2020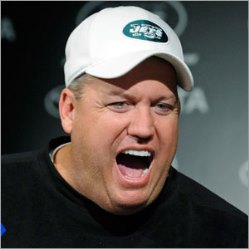 So what kind of quarterback did the Bucs get in Tom Brady?
Former head coach/defensive guru Rex Ryan has an answer, and he's a guy who faced Brady 16 times as a head coach.
Ryan told ESPN that Brady remains a superstar and that includes how he performed lastseason.
"Offensively, they had Tom Brady and, uh, that's right, nobody else," Ryan said of the 2019 Patriots yesterday. "So, no offensive line, no receivers. I'm tellin' you. It was a mess, yet he still led his team. So to me, that's what he still brings to the table out there. … I still think Tom Brady is one of the elite quarterbacks in the league."
Ryan is a rather straight shooter, so his comments should soothe the Brady doubters among Bucs fandom.
Joe will have more on Brady's 2019 performance later today.