Randy Moss Talks Brady, The Patriots' Mystery & The Bucs
March 18th, 2020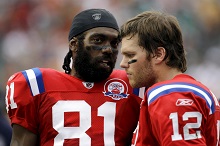 Randy Moss has spent time training with Mike Evans in recent offseasons, and he's also a guy who reveres his years in New England playing with Tom Brady.
Moss now works for ESPN TV calling it straight like only he can. He admitted yesterday it's hard for him to swallow Brady leaving New England, but Moss wants the world to be certain that Brady remains an all-Pro player, just one who was lacking weapons last season.
The weapons on the Bucs? Moss is happy for what the Bucs receivers and "a decent tight end" will mean for his old buddy.
Per Moss, the Patriots didn't offer that last season and Brady needs more than just one target to throw to.
Moss agonizes over a popular sports argument, he said, whether Brady made Bill Belicheat or vice versa.
"Who is responsible for those six rings? You know, people sayin' it's Bill [Belicheat], people sayin' it's Tom. And now we get an opportunity to see who was the man behind those six championships. So, it's kind of crazy," Moss said. "You know, I'm going to continue to say it's kind of crazy because I never thought that a guy like Tom Brady would leave a place like New England."
Was Brady just hit by the business side of football or Belicheat's ego? Moss isn't sure.
As for winning a Super Bowl in Tampa, Moss said he doesn't see the Bucs as a Super Bowl contender, but that could change.