Report: TB12 Sports Location Coming To Bay Area
March 23rd, 2020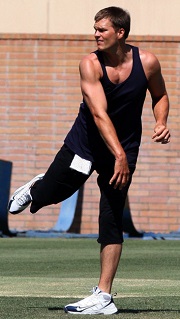 Tom Brady isn't just a superstar quarterback, he's also a business man who has been busier and busier off the field in recent years.
One interest is in TB12 Sports, which specializes in customized fitness, performance and recovery.
According to sports radio WEEI in Boston, Brady plans to expand on locations in Boston and Foxborough to include locations in the Tampa Bay area and in New York and Los Angeles.
The Boston location opened its doors last summer, while the Foxborough location has been open since 2013, per WEEI.com.
Joe suspects many Bucs fans will be in need of Brady's services before — or after — they do cartwheels down Dale Mabry Highway, assuming the Bucs don't open 3-5 or worse for the ninth consecutive season.