The New Race To 10
March 23rd, 2020
BY IRA KAUFMAN
Even with Bradymania in full throttle across the Bay area, a little perspective please.
For those Buc fans thinking Super Bowl or bust, don't you think you should slow your roll a bit?
Tom Brady won't throw 30 interceptions and he'll lift the play of everyone around him, but we shouldn't judge this grand experiment a bust if Tampa Bay isn't representing the NFC in the league's showcase game — right here at Raymond James Stadium.
Bruce Arians says the Bucs will be a tough team to beat once they stop beating themselves. As evidence, he can point to 7 wins, despite an NFL-high 41 giveaways.
Fair enough.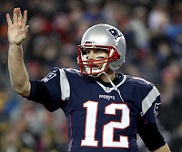 But let's remember the other NFC powers haven't been sitting on their salary caps while the ticket office at One Buc Place went haywire. The Saints, who happened to win the division by a startling six games in 2019, have already made two key additions by signing safety Malcolm Jenkins and wide receiver Emmanuel Sanders.
Jenkins was a New Orleans rookie when the 2009 Saints won the Super Bowl and Sean Payton says he never should have let Jenkins hit the free agent market in 2014, to be scooped up by the Eagles. Now he's back, adding savvy and leadership to a solid secondary.
Sanders isn't the same deep threat who reeled off three consecutive 1,000-yard seasons for Denver in the middle of the last decade, but he is a crafty route runner who will take some pressure off the league's premier wide receiver, Michael Thomas.
Thomas has been an equal-opportunity tormentor for defensive backs, but the NFL's Offensive Player of the Year has been particularly hurtful to the Bucs. In seven career games against Tampa Bay, Thomas has 66 receptions for 831 yards. A young Bucs secondary saw Thomas catch 19 balls for 296 yards and three scores last year as the Saints swept Tampa Bay.
That's unacceptable. That has to change in a hurry because New Orleans has won 13 of the past 17 meetings, averaging 29 points.
"The biggest message was I think the difference between us and the New Orleans Saints," Bruce Arians told his players after last season. "In September, they knew they were going to win the division. We thought we might, but we weren't sure and it was too late by October."
If the Bucs win 10 games this fall, no one should complain about the pursuit of Tom Brady.
With an extra playoff slot for each conference, 10 wins will almost assuredly get you in the playoffs. Whether it's as a wild card or an NFC South champion, all Brady wants is another chance to play January football.
Every team's goal should be the hoisting of the Vince Lombardi Trophy. That's a pose very familiar to Tom Brady. But to suggest Brady's presence automatically lifts the Bucs ahead of the 49ers, Saints and Packers is a big ask.
The Bucs are not a finished product and there is more work to do.
A subpar ground game needs to be revitalized. The depth in the trenches is not good enough to sustain key injuries. There are potential issues at safety and at kicker. Who steps in under center if Brady misses a month?
We've had great expectations around here recently, only to be disappointed. Remember how that impressive 2016 finish was supposed to serve as a springboard for success under Dirk Koetter?
Things feel different this time around because the 2017 Bucs added troublemakers like Swaggy Baker and DeSean Jackson. The 2020 Bucs just added Tom Brady.
Arians needs to establish a winning identity at home and a winning mindset coming out of training camp.
"You lose playoffs in September sometimes," he said. "A lot of people don't like talking about that. When you start losing games in September they come back to bite you in December and some of those did for us. I think next year when we step on the field we should know we're good enough."
Good enough to end a demoralizing 12-year playoff drought?
That's the Big Kahuna of hurdles, and if the 2020 Bucs can check off that box, Mr. Brady is worth every penny.