Reasons For Quiet On The Brady Front
March 17th, 2020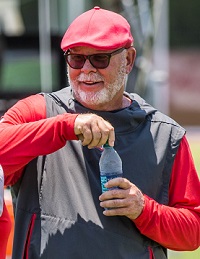 One rarely discussed rule of the NFL's free agency "tampering" period is an important component of Tom Brady negotiations, Joe believes, especially when you consider Brady's history with the NFL and Bucco Bruce Arians' propensity to speak candidly.
During the tampering window, players cannot negotiate with teams directly. Only their representatives are able to handle that for them.
So just imagine how Roger Goodell might react if, say, a Brady deal was announced today and then later Arians tells reporters how excited he was on Day 1 of tampering to get on a Skype call with Brady and Team Glazer and hash out what Brady needed in his relationship with the Bucs, etc.
The fines from the NFL would come rolling in fast and furious.
Also, if Brady himself wants to talk directly to Team Glazer to see what he's dealing with and gauge their commitment to Arians, then it very well could be Brady who's waiting for a legal Wednesday chat with them and other owners of teams desiring his services.
Heck, Joe would have a lot to ask mysterious Team Glazer and Chargers ownership, for example, if Joe were in Brady's shoes.
So the Brady quiet isn't surprising. And it's not like Brady is obsessed with or hurting for money and in a mad rush to take a good offer like so many other free agents are.