Still No Known Market For Jameis Winston
March 18th, 2020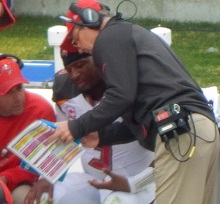 Former Bucs quarterback Jameis Winston seems unwanted in American football right now as a starting quarterback, more than 48 hours into his first foray into free agency.
And the Bears traded for Nick Foles.
Yes, NFL coaches loathe turnovers. It drives them nuts. Jameis is feeling that trepidation right now.
Owners, who also make quarterback decisions, usually care far more about public perception than coaches, and Jameis' past legal and league issues might be making some owners shake their collective heads.
America's leading touchdown thrower and passing yards leader is not in demand, it seems, though their certainly could be negotiations behind the scenes. As Joe has written, this is historic territory in professional sports. Young guys who lead their sport in a major offensive category always find work the following season.
Of course, Joe believes Jameis will get at least a backup job somewhere, and he might get to compete for a starting gig in New England. But these are tough times for the Jameis camp, and for Jameis lovers, as the collective assessment of Jameis by team officials plays out before us.
Good luck (only the AFC), Jameis.