Historic Decisions By Thursday
March 6th, 2020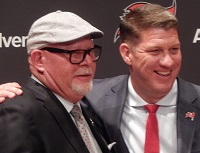 Joe just wanted to share the critical deadline that represents a monumental decision in Buccaneers history.
Thursday, March 12, at 4 p.m., is the last possible second the Bucs could slap a franchise or transition tag on America's Quarterback, Jameis Winston, or any other player.
That's it. Jameis could hit the market as a free man if the Bucs don't act in the next six days.
NFL players voting on a new labor agreement will not change this tag deadline. Voting has commenced on the new labor deal and players have through March 12 to cast their ballots.
Joe wonders how Jameis will feel if he is made a free man.