Grabbing A Right Tackle
March 4th, 2020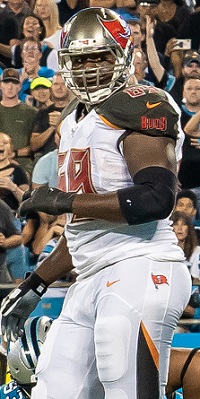 A lot of folks are pounding the drum for the Bucs to pick a right tackle early to replace Demar Dotson.
For those folks, this will be music to your ears.
Eric Edholm of Yahoo! Sports did a post-combine mock draft and he sees the Bucs, perhaps trading up from No. 14, to grab Georgia left tackle Andrew Thomas.
The Buccaneers have decisions to make at quarterback, which certainly could change this forecast dramatically. Are they in the market for a win-now vet there? If so, they'll need to keep adding layers to a flawed offensive line, and Thomas would be the last of the top four offensive lineman before there's a clear demarcation until the next tier. In fact, they might even have to trade up to ensure they get him.
Here's the thing: If the Bucs are going to draft a right tackle in the first round, just a hunch that means he will move to left tackle after the Bucs get rid of Donovan Smith.
Joe honestly does not know if the Bucs are eager to run off Smith, who had his best season as a pro last year. Drafting a right tackle at No. 14 (or higher?) seems awfully high.
The thing Joe likes about this Thomas is that he seems intent on getting to the second level to take on linebackers after his initial blocks. And Joe also likes the way this Thomas tosses defenders.